Painting your commercial property can be a vast job depending on the size of the property, along with the type of property it is. This is why you should use qualified commercial painters for your:
industrial space
high rise
school
office block
Along with the location and access, there are many facets to consider and manage. So, you want someone who knows what they are doing, is experienced in all aspects and has a team behind them to support and help deliver your project on time and within budget.
Look for a Master Painter that's experienced with commercial painting projects
Master Painters are experienced and have standards and ethical aspects to meet to become a Master Painter. This means you can rest assured you are engaging a painting service that will give you a high quality finish and use quality paints and materials. And you will also receive a Sydney painting service that:
Has all the relevant insurances – worker's compensation and public liability
Knows and understands the law concerning working from heights
Peace of mind you are using a trusted company
An experienced company that delivers on time and budget
Any commercial painting company or business that will be carrying out any works should be more than happy to supply you with a copy of their certificate of currency for all their insurances. If they will not do so, this is a clear red flag, and we would recommend running in the opposite direction and straight to us if you are in the Sydney area.

Choose an experienced commercial painter
As experienced commercial painters and Master Painters, we are experienced in all aspects of painting, from the planning right through to the execution and clean up.
Depending on the size of your commercial property, multiple things need to be juggled, including:
Ensuring the correct number of painters are available during the project to ensure it comes in on time and on budget
Planning the logistics – how we'll access your property with the least disruption to your business and surrounding premises
Working within your business opening hours and ensuring OH&S guidelines are met for your employees, ours, and also the public
If scaffolding will be needed, then when and where it needs to be erected and then also dismantled, so it's not in the way or holding things up
Planning and communicating so we are not disrupting your business but ensuring we are also following workplace OH&S guidelines and procedures to keep your employees safe, our employees safe, and the public
Deliveries of materials are done in an efficient and non-disruptive manner to your workplace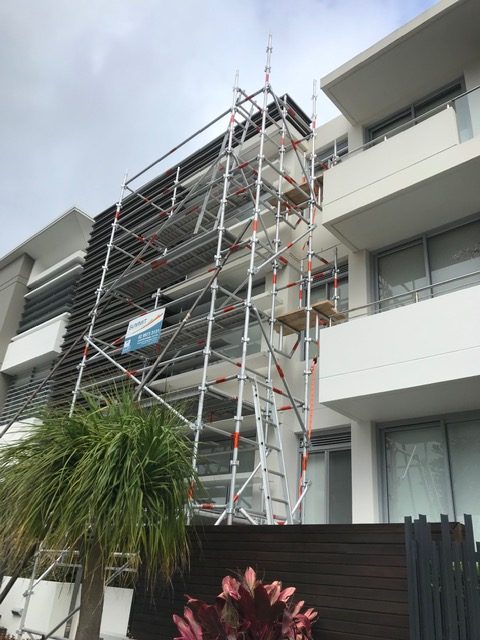 Why hire Summit Coatings as your commercial painters
Summit Coatings have been looking after the painting of residential and commercial properties for over 30 years. We are also registered Master Painters, and our level of workmanship and delivery sets us apart from the rest. This has led to us winning and being finalists in numerous awards.
We come highly recommended too as you can see:
"Our strata block's whole experience of Summit Painting from initial quote, office back up and painting team allocated, was professional and seamless."
Attracta Lagan, Head of Body Corporate, Scarborough House
No job is too big or too small for Summit Coatings so if you are in and around the North Shore and Northern Beaches area of Sydney get in touch with us now to discuss your residential or commercial painting needs.
SEE THE DIFFERENCE WITH SUMMIT
Call us today 02 9973 3131