Are you looking at investing in a strata property and have heard about body corporates, but what is a body corporate when it comes down to it? Read on to find out.
Strata properties can be a great investment. But they can also be expensive to maintain, and that side of it can sometimes be a headache. Having experienced trades, particularly excellent and reliable strata painters that know what they are doing on hand, makes looking after your investment a breeze.
If the strata property you purchase is also looked after by a Strata Manager, it can be a very hands-off type of investment. Depending on your circumstances, this can be a tremendous positive – who doesn't want more time to enjoy life?
What is a strata property?
If you're not familiar with the strata property concept, it's where multiple properties are on the same title because they share a common property area – roofs, lifts, gardens, driveways, etc. They can all be common areas that one owner doesn't typically own.
Properties such as high rise apartment buildings, unit complexes, townhouses, retirement villages, caravan parks, commercial buildings/shops, etc. are common strata properties.
Where does a body corporate come into it?
Strata properties are normally managed in one of two ways.
Either with a Body Corporate, that is a legal entity or the property owners appointment a Strata Manager.
Body Corporate
A Body Corporate consists of a committee of owners who appoint office bearers, etc.
Decisions and discussions are had at meetings that all owners thus members of the body corporate attend with minutes of meetings taken. Annual general meetings are held but it's the office bearers that take on more of the day-to-day tasks and are your go-to people for any issues, etc.
Strata Managers
A Strata Manager on the other hand still work with the Body Corporate, but the Strata Manager takes on more of the day to day and administrative tasks taking over the body corporate management role.
The Strata Manager still seeks approval of any changes, etc., from the Body Corporate, and Body Corporate meetings are still held. Strata Managers free up committee members' time and are also up to date on laws and regulations that need to be adhered to.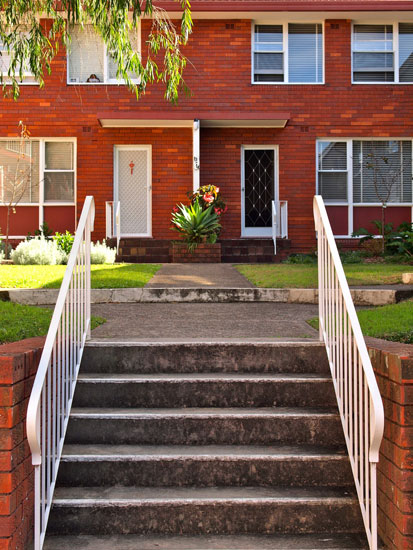 Pros and cons of purchasing a strata property
There are many pros and cons to owning a strata property. One thing you want to investigate when looking to purchase a specific property is the financial position of the Body Corporate and what the Body Corporate fees are:
Pros:
Great lifestyle.
Low maintenance investment if managed by a strata management company.
It can be more economical to purchase compared to a freestanding property.
Cons:
Permission is usually needed to make any changes to your property.
Strata fees are generally subject to change so they can increase as things need updating or repairing around the building.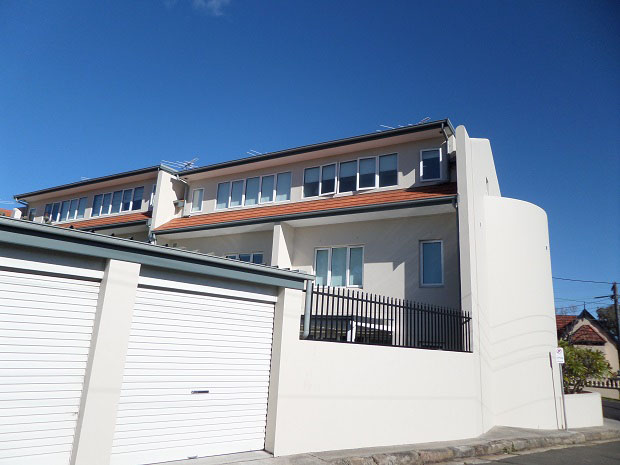 What changes can you make when you want the strata painters in?
It's always best to double check your strata laws. Still, you can generally repaint the inside of your apartment/unit without needing to get permission from the Body Corporate or Strata Manager. If any area you wished to repaint is in a common area, you would need to obtain permission, and it would generally have to go to a Body Corporate meeting.
If you want the strata painters to come in to repaint a common area and want to change the colour scheme, do your homework.
Take along your colour charts or paint chips to show the committee members at the meeting. Even take it a step further and speak to the committee members individually if you can before the meeting. If there are any concerns regarding the colour, you can always revisit some other options and then present other options at the meeting, which will speed things up.
Why choose Summit Coatings as your strata painters in Sydney
Summit Coatings have worked with many Body Corporates and Strata Managers over the past 30 years. Our painters are experienced in undertaking large projects, and we are experienced in the concerns and processes of working on a strata property. We have reviewed and perfected our process over the years to make it as streamlined and least disruptive as possible to the owners and residents of your strata property.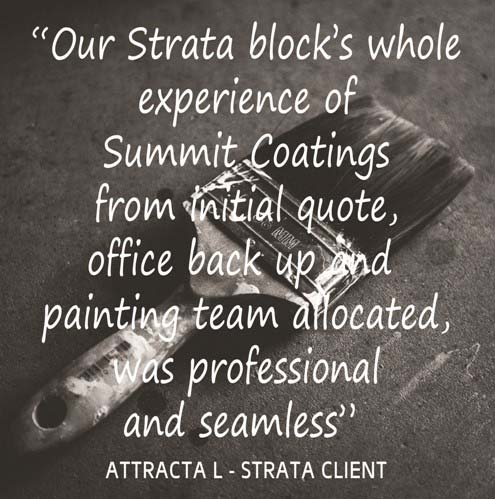 SEE THE DIFFERENCE WITH SUMMIT
Call us today 02 9973 3131