Are you thinking about making some updates to your commercial property in Northern Beaches, Sydney? You may be thinking about getting the painters in if you are between tenants and want to improve your chances of leasing the property. Or have you taken on a new tenant and it's been a part of the negotiations/lease agreement or are you the owner/occupier of the property and are updating your branding and want to take it a step further to the exterior of the building as well. So, engaging painters that service Northern Beaches or where you are located to improve the exterior of your property can add:
Value
Style
Appeal
Confidence
All of which is a benefit for the owner of the property and the business that operates out of the building. Just make sure you use qualified and fully insured painters that have experience in commercial painting as depending on the size of the building and logistics there are a lot of areas to manage.
Why you should engage commercial painters for your Northern Beaches property
We've all done it before and judged a book by its cover and people do it with buildings and businesses too. So how the exterior or your commercial building presents will be the first impression of potential tenants and clients. If the building looks cruddy and has peeling and chipped paint are you going to want to lease the property or do business in that building? I think not! So, jazz up the outside and get the painters in to present the property at its best. It's amazing how much a coat of paint and a change of colour if you wish can change the look and appeal of a property.
If you already have a tenant though and are wishing to spruce up the interior and exterior of the property and they are a long-term tenant then consult with them as to what your plans are with the timeframe and colour. If the tenant is trying to present a particular look with their business what you do with the colour can have a big impact in some instances. For example, if your tenant is a beauty salon and they're presenting a holistic, calm, warm and inviting presence and you turn around a paint the exterior of the building a gunmetal grey as you can see below the colours have a completely different vibe and appeal. The darker colour isn't inviting. It's not warm and welcoming and is quite the opposite of what a beauty salon is generally trying to do.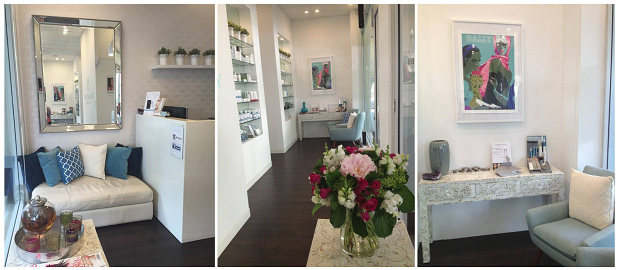 Source: Sanctuary Skincare
The example above is what a business presenting a calm, warm and inviting presence entails.
Then the example below shows how a dark exterior gives a totally different impression and vibe and would not suit that calm, relaxing serene beauty salon.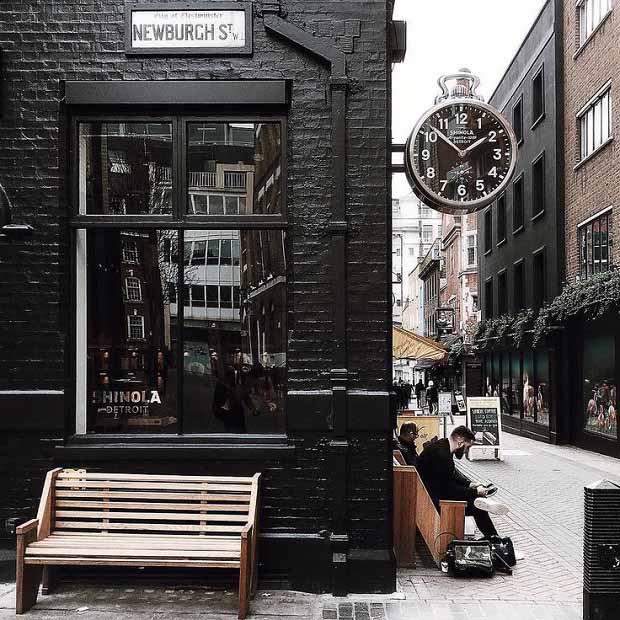 Source: Pinterest
Colour can make a big impact when painting the exterior of your commercial property
As we said above and showed you with the two images. Colour can have a big impact on your tenants and how their business is portrayed. So please consult with your tenant if you already have one. We would also recommend having your painters stick to more neutral colours and then your tenants can make any changes if they wish or accessorise when it comes to the interior.
If you are looking at going down the route of the changing the colour of the exterior of your property then also consider the styles and colours of the surrounding buildings and businesses too. If your building is quite close to other businesses and you are in quite a conservative area and you turn around and paint your building canary yellow for example then you might find you're the talk of the town and not for the right reasons. Although they do say all publicity is good publicity so depending on what you are trying to achieve you may have hit the nail on the head and it could be a cost-effective marketing ploy or gimmick.
Normally when it comes to painting a commercial property our clients choose neutral colours for our painters to use rather than what's "in style." Any other colour choices are left to the tenants to make and then rectify back to the original state should they move on at a later time.
Top 5 tips on how to proceed with your commercial painting
There's a lot to consider and take into account when engaging painters for your commercial property so here are the 5 main points:
Ensure you use a company that has experience and all the relevant licenses and insurances like Summit Coatings.
Engage painters that are a part of the Master Painters Australia Association. That way you can rest assured you are using a reputable company and will get a quality job to match.
If you have tenants in the property then speak to them. Discuss with them what aspects will disrupt them, is the painting able to be completed on days or a holiday period that they are closed (remember a happy tenant pays their rent on time).
If you have a long-term tenant or occupy the building yourself then take the business and their branding into account along with the surrounding area and businesses. Like we said don't paint your building canary yellow in a conservative area unless causing a stir is a part of your plan.
Also, make sure you check or that the painters do as to whether you have any restrictions on your property. If it's heritage listed or the like then there can be quite strict restrictions and guidelines you must follow and plans need to be approved before work is undertaken too.
Now if you are located in the areas that we service of Northern Beaches or North Shore Sydney then contact us here at Summit Coatings when you are ready for a quote. We would be more than happy to assist you with any of your painting needs.
SEE THE DIFFERENCE WITH SUMMIT
Call us today 02 9973 3131