Colour selection can be a very subjective and personal one. And it can be difficult for strata committees to agree on a colour scheme for the properties interior and exterior. Add into the mix the potential tensions and personal agendas that can arise within a body corporate and the large selection of paint colour options out there. This is why our strata painting Sydney team have popped together our top tips.
We are highly experienced in working with numerous strata committees and body corporates across a broad range of companies and communities. We have used this experience to put together this quick guide on how to agree on colour selection for Sydney strata painting projects.
Agree with your objectives
The first step is to agree on the objective and why the strata painting is being done.
Is the committee after a coat of new paint to freshen up the building or provide it with a bold new upgrade?
Consider our strata painting top tips
Below are our top tips for strata painting from the best strata painters in Sydney. These should be considered by the committee when discussing a new paint.
Exterior painting
Selecting an exterior colour can be extremely difficult due to the nature of painting such a large surface area. It's essential to choose a colour that is on-trend, timeless and won't stand out or attract any unwanted critique from the community.
Here are our top 4 tips for painting a building's exterior:
Work with the building's character
The colours you select should match the era of the property and its unique architecture.
Assess the community feel – you don't want to have a building that stands out like a sore thumb! When selecting an exterior colour, ensure you consider the surrounding properties and the local community vibe.
Select neutral colours – Neutral colours are always a safe choice and generally blend well with any surroundings.
Limit the number of colours – An exterior paint should avoid using too many colours as this can often result in an unsuitable and distracting appearance. Generally, you should use one colour for the walls, one for the trim, and one for the accents.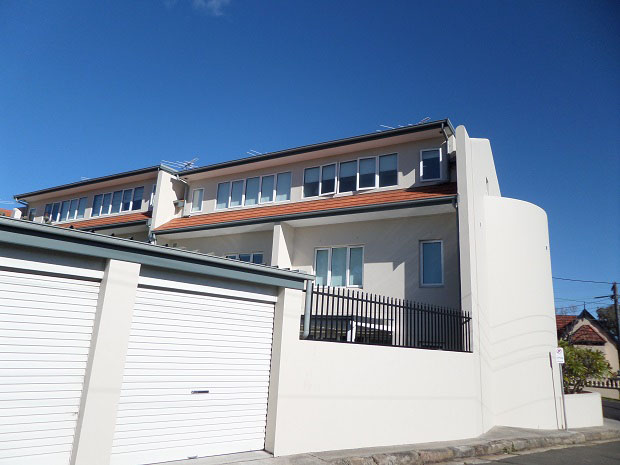 Interior painting
Interior painting is very different to the exterior, and each interior space is different again. Here are our top 3 tips on painting interior spaces:
Start at the bottom – First, consider the flooring colour. It is essential to keep this colour in mind when selecting paint to ensure they do not clash!
Jump to the top – Next, take a look at the ceiling. A light ceiling opens a space up and provides a nice, light feel. Alternatively, a dark ceiling closes in a room and can make a space feel small.
Finish at the middle – Lastly, focus on the walls. The walls take up most of the space in a room and are generally the most noticeable. Make sure you consider your original objective here – are you wanting a refresh or to make a bold statement on feature walls? Select one colour throughout the property for all of the walls or select colours with a similar tone.
Come to an agreement
There are many guides on serving on a strata committee and how to run meetings. However, these general decision-making steps appear to be a theme and a good guide on how to decide on a colour theme for your paint job:
Get everyone to contribute ideas
Narrow down the options
Vote!
If all else fails, hire a professional colour consultant
It's essential to consult with professional Northshore Painters before deciding on final colours to ensure the committee has made a good choice.
Alternatively, if the committee is indecisive, why not hire a professional to do all the hard work for you?! Hiring a professional colour consultant takes away a lot of unnecessary stress, helps you avoid making a mistake and provides you with the assurance that the right paint colours have been chosen.
Please get in touch if you need assistance with painting your Sydney strata buildings. We are happy to provide you with you an obligation free quote. And have a team of strata painters with years of experience.