You can elevate the look of your strata building and add value with professional and high-quality strata painting services.
Strata painting is a challenging undertaking. It's not just about a fresh paint of coat; it involves the ongoing care and maintenance process of your building's painting work.
Harsh weather can quickly deteriorate your building façade in Sydney. Especially with our harsh Australian climate. It's essential to choose a skilled strata painter to meet the needs of your complex and owner's corporation.
Why choose a skilled strata painter in Sydney?
A skilled strata painter has the equipment and expertise to keep your building in tip-top shape. Also, they can help you develop a comprehensive strata care plan making your job as project manager or body corporate much easier.
The right strata painting project can take the look of your property to the next level.
And with an exceptional team of strata painters who will also participate in the planning process.
In our case, we make an appointment to tour the property with you and accurately assess your needs. As skilled and experienced painters, we conduct a comprehensive inspection of the critical components that protect your complex from precipitation in other damaging elements.
We will help you to establish and meet your expectations. And together, develop a reasonable timeline, budget, and desired outcome.
The Appearance of Your Strata Property Matters
Whether your complex is new or old, it requires ongoing maintenance. If you don't care for your building's exterior properly, repairs and safety issues can add up quickly.
The longer you go without maintaining or updating a building exterior, the more it costs to manage the issue later. Accordingly, it's unwise to overlook building maintenance or take shortcuts. If you don't take care of your strata complex, neglect can allow the appearance of your building to diminish – or worse – cause structural damage.
At a minimum, you should make a visual inspection of your complex exterior every year. A peeling or otherwise damaged surface may indicate worn or damaged features that are supposed to protect your property.
When this happens, a building starts to show its age. At the least, it doesn't look right. Proper building maintenance is one of the top ways to extend the lifespan of your complex.
It's impossible to stop all decay. However, a building can decay faster if you don't take good care of it. As a Strata Manager, you can develop an effective exterior maintenance plan and keep your property in good working condition.
Why You Should Choose a Strata Painter for Your Complex
When it comes to the upkeep of your strata complex exterior, nothing is more important than choosing the right painter. Poor craftsmanship can have long-lasting adverse effects on the appearance of your structure.
The losses that occur due to a poor paint job multiply quickly. An inferior paint job will result in your property needing painting again sooner rather than later and making the painting process that much longer and more involved to get it back to where it should be.
Furthermore, inadequate protection for your building's exterior can lead to maintenance problems, and it can also reduce the value of your property. Strata painting is about more than looks; it's about realizing the maximum potential of your investment.
Maintaining Your Building's Beautiful Appearance
With so many responsibilities to manage, it's easy to overlook the appearance of your strata complex. However, the appearance of your building is a reliable indicator of its condition. By ignoring your building's exterior, you can allow problems to develop to the point where they become large, overwhelming projects.
You will enjoy several benefits by developing a comprehensive maintenance program. Proper maintenance will prevent deterioration and keep everyone comfortable and happy.
An effective strata coating can protect your property from the elements and reduce water infiltration caused by precipitation.
A well-cared-for exterior can also slow the accumulation of dirt and staining on your complex. It can also help to seal small cracks neglected by standard sealers.
This added protection can help reduce water penetration in structures such as balconies and terraces, and it can also prevent water from reaching reinforcing steel.
You should also schedule regular cleaning of your complex exterior. Power washing can remove most sediment.
However, it's essential not to use too much pressure or power wash too frequently. Excessive power washing can prove just as harmful as inclement weather.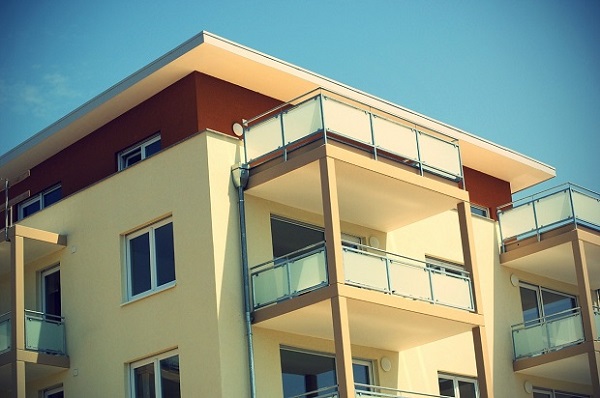 Strata Painting Ideas
If you're going to refresh the appearance of your strata complex, why not go for painting with a twist? There are many modern painting ideas that you can use to make your complex exciting while protecting its exterior.
For example, you could choose a wall for an art mural. Original works of art on permanent structures are becoming increasingly popular. If you want to update the appearance of your strata complex, a feature wall makes a huge statement.
For other parts of your building, light shades can make areas look inviting and expansive. A fresh coat of colour can do wonders to revitalize the appearance of your strata complex.
An exceptional strata painter will work with you to help you choose your colour scheme. They'll have experience working with clients and helping everyone reach a consensus on a new façade.
Achieve the Best Results Possible: Hire a Strata Expert
Summit Coatings has vast experience in strata complex painting in and around Sydney and the Northern Beaches. We understand the intricacies and many elements involved with quality painting.
For more than 50 years, we've satisfied clients beyond their expectations. We will help you ensure that refacing your façade is a smooth and stress-free process for all stakeholders.
Contact us today for a free quote if you're ready for a fresh, modern look for your strata complex.