Have you got a small kitchen? There's a lot you can do with a small space! When it comes to small spaces it's all about the right colour though. And when it comes to a small kitchen our interior painters Sydney know what they are doing.
Small kitchens normally feel cluttered, cramped and dull. Considering how long we spend in them, that's the last thing we want. Today we are going to look at the best colours for your small kitchen. We will also go over some great tips from our interior painters Sydney to help make your kitchen feel bigger and brighter. You'll never want to leave it!
Where to start with a small kitchen? Advice from our interior painters Sydney
First of all, are you remodelling your small kitchen? If so, is there scope to physically enlarge the space? Can you open up any walls perhaps? If this isn't an option, then choosing the right colours is paramount. Rule of thumb, when it comes to small kitchens our interior painters recommend choosing light shades. Light colours open up space. Light colours also reflect light making your small kitchen seem bigger. Illusion is everything when it comes to space! So, the first thing to do is to choose the perfect colour for your small kitchen. A professional colour consultant can help you with that!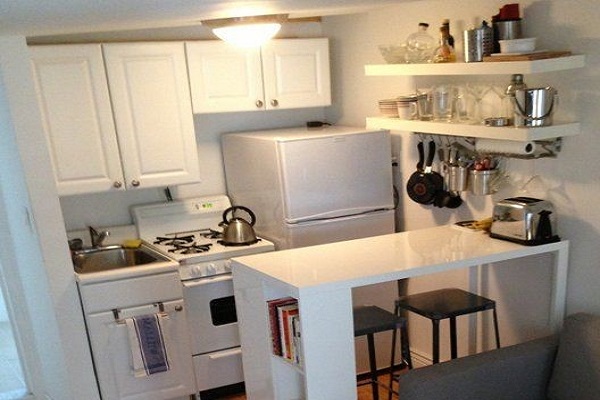 Source: Pinterest
Sometimes it's hard to choose the right small kitchen interior colour. Luckily, having a small kitchen makes this decision a little easier. Our Sydney interior painters say never use dark shades! So that helps shorten the list.
Small areas look best in light and bright colours. Using colours that open up space will create a dramatic difference in how small, or large, your kitchen will look. Don't worry, this doesn't mean you have to paint everything in your kitchen a clinical white! There are endless shades of whites to choose from – just check out Taubmans Endure's colour range.
Mixing shades of whites and creams can add warmth and sophistication to your small kitchen's interior painting scheme. You can also introduce different textures rather than colours to create points of interest. Keeping the same colour palette again helps with opening a space up and adds some interest.
If you do want a pop of colour though why not introduce it via the gorgeous colours in small appliances these days.
6 tips to make your small kitchen look bigger
Ok, so we have the colour sorted! That's the most important part when dealing with a small kitchen's interior. But there are lots of other little tricks you can use to make your kitchen look bigger! Have a look on Pinterest for inspiration and follow our tips:
Remove cabinet doors or replace solid fronts with glass: This will pull the eye past the cabinet frames, making the room feel bigger. It's important to keep things tidy when you have glass doors or open shelves though.
Allow let as much natural light in as possible: We know you can't help where your windows are in your home. Where you do have windows though try keeping treatments minimal.
Eliminate clutter: We all know clutter in a small space is a big no, no. There are many ways you can eliminate clutter in your small kitchen.
Recess shelves: This will add storage without taking up floor space.
Mirror splashbacks: Mirror splashbacks will instantly make your small kitchen look a lot bigger. This goes for appliances too. If you're going to have appliances out on your bench top, make them shiny!
Light furnishings and décor: The same rule for your walls applies to your furnishing and décor as well.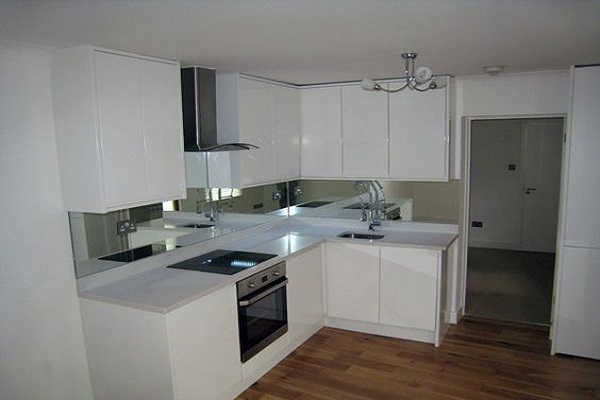 Source: Pinterest
If you have a small kitchen our interior painters Sydney know how to finish off your dream kitchen with the right paint. We are an award-winning team with years of experience. So, if you have a small kitchen in your Sydney home, contact us now. We can help you create a gorgeous, large feeling kitchen space today!
SEE THE DIFFERENCE WITH SUMMIT
Call us today 02 9973 3131