Your local painter – North Shore Sydney
Servicing the area for almost 50 years, we are locals ourselves, with an in depth knowledge of the property market in the area. We are available for a variety of painting services including Residential, Commercial and Strata Services. Have you got a job that requires professional attention at a reasonable price point with excellent service from an award-winning painter on the North Shore? If this sounds like you, you're in the right place.
Contact us today to get started on your next strata project.
All of our team are fully licensed professional painting contractors who are fully insured to work on your premises. We work on the premise that preparation is essential to the overall quality of the project. We ensure all drop sheets are laid and taped, all frames are taped and cut in with excellent attention to detail. Our painters will only work with 
quality approved Taubmans paints
, which offer the finest finish for the longevity of your surface. Take comfort in knowing someone qualified is working in your home or office, which respects your belongings and understands that limited inconvenience is essential.
As registered Master painters
, we provide precision works with a focus on perfection and efficiency. We want to be able to jump into the job and have it done for you with the best attention to detail, at the least inconvenience to you. We understand that running your own business or household and having painters in your way can affect productivity across the board. We'd like to save you time by getting the job done once, properly, with a finish you will be able to enjoy for years to come.
We work alongside 
property managers on strata projects
 and on 
large scale commercial projects
 as well as 
full residential repaints
, both internal and external. We can provide our own scaffolding – which minimises your difficulty coordinating trades – and have all required equipment to go for the project to commence as quickly as suits you. We assist with building maintenance of any kind, no job is too small for the team at Summit Coatings.
If you need a Painter North Shore side that offers value for money and quality workmanship, call Summit Coatings on 02 9973 3131 to speak to a master painter about your job today.


Many people will attempt to DIY their paintwork as they have attempted to save money during a renovation or a property facelift. More often than not, these jobs eventually come to a licensed painter to re-do the finish, costing the customer not just the rework, but the supplies and the time they took to do it themselves the first time. A surface can be painted by anyone, but the longevity and quality of the finish will show in time and often times the surrounding surfaces have been damaged by the initial attempt.
Save yourself the time and the money on doing it twice, by hiring a North Shore painter to get the job done efficiently and tidily. If you happen to find a better value for money quote, please let us know. If comparing apples with apples, we are more than happy to price match to provide you with the quality of our service.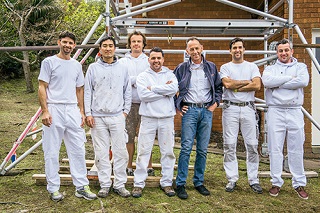 For an award winning North Shore painting team, call your neighbours Summit Coatings to the job. With world-class service and an excellent industry presence, we know good painting.