Do you have a newly painted home to be proud of with that lovely fresh smell? But now you've popped everything back are things not looking as good as they could? Have you thought about engaging the services of a professional home organiser? Today we look at Free Time 4 Me Time, a professional organising company owned by the lovely Deanne. We'll go over the fantastic things a professional home organiser can do for your newly painted home!
We understand at Summit Coatings, what it means to be busy. Sometimes there just aren't enough hours in the day to keep things in your newly painted home in order. Add in work, kids, socialising and you start to really run out of time for anything else! Plus, who really wants to spend the little spare time they do have organising? Deanne of Free Time 4 Me Time does! She is a self-proclaimed born organiser!
How can a Professional Organiser enhance my newly painted Sydney home?
Now is the best time to start organising before moving everything back in. Not sure where to start though? Here are some simple organisational principals:
De-clutter
Have a place for everything
Have only what you need, use and enjoy in your home.
Put systems and routines in place
Decluttering
To keep a home tidy and organised, it is very important to have systems and routines in place. In order to implement these systems, the first step is to de-clutter. It is very difficult to be organised if there is clutter everywhere. If you didn't de-clutter prior to painting your home, now is the time to do so. Get everything together that was in the room, categorise it into 4 piles.
1) Items to go back into the room,
2) Items to donate
3) Items to dispose of, and
4) Items that belong in a different room/area.
Only have in your home those items that you need, use and enjoy.
Before picture from Free Time 4 Me Time

After image from Free Time 4 Me Time
Have a place for everything
Everything in your home should have a designated spot. It is important to keep all "like" items together too. For example, toys should be kept in a toy/living area or a child's bedroom.  Not the kitchen, office or adults room.
Labelling
Labelling makes a huge difference in locating items quickly and keeping them in order.  Label children's toys, locations for items in your linen cupboard (eg. Queen sheets, single sheets, beach towels, towels) and items in your pantry. Keeping pantry items in glass jars keeps them fresher for longer, avoids the risk of pantry moths, and stops it from looking cluttered.
Systems
Put systems in place. Create areas that are designated for a particular activity/use. For example, one or two large toy boxes in a playroom for children to hold all their toys in one place and makes it easy for the children to pack away. This is always my recommendation as shelving accumulates clutter and can make a room look untidy.
For children who love lego, designate an area which is used solely for this purpose and create a system, which looks tidy, and enables your child to play freely and display their creations without taking up the whole living area.
A homework station, which can be as simple as a hanging magazine rack, holds children's homework minimising any clutter on the kitchen bench.
Keep a fully stocked pencil case with it – so there's no excuse for not finding anything.
Hang clothing
My top recommendation to clients is to hang as much clothing as possible. For children, this means much less mess in their rooms as they don't need to rifle through drawers for their favourite t-shirt and enables them to self-dress easily. It is also easy to hang clothes on coat hangers straight onto the line and then they can be put away easily, saving valuable time.
Routines
Put routines in place and try to stick to them as much as possible. By doing so, your home will be much more organised.
Deanne's top Routines are:
Go to bed with a clean kitchen: each night stack the dishwasher and put it on, wash any dirty dishes (and dry them if you can). Wipe down all benches, clear any paperwork off – sign it, file it or dump it.
Create a menu plan for the week and shop online: this saves time, money and prevents wasted food.
Nightly: each night, use your meal planner to prepare yours and the school lunches for the next day.
Washing: wash clothes every day (put a load on at night) so it's ready to hang first thing.
Do a quick tidy of the house: grab a washing basket, put any dirty clothes in it and take to the laundry. Then use the same basket to pick up things, not in their right place and pop them back.
Make your bed every day: it is surprising how a made bed can make a room feel more organised and there's nothing like coming home to a newly made bed.
Disinfectant wipes: keep disinfectant wipes under benches in the bathroom, kitchen and laundry for a quick wipe over to stay on top of cleaning.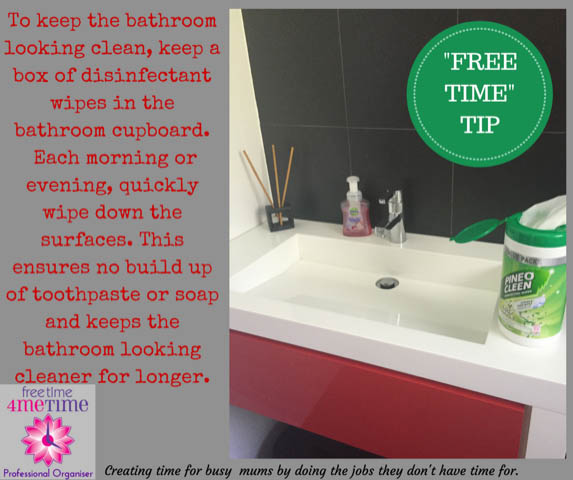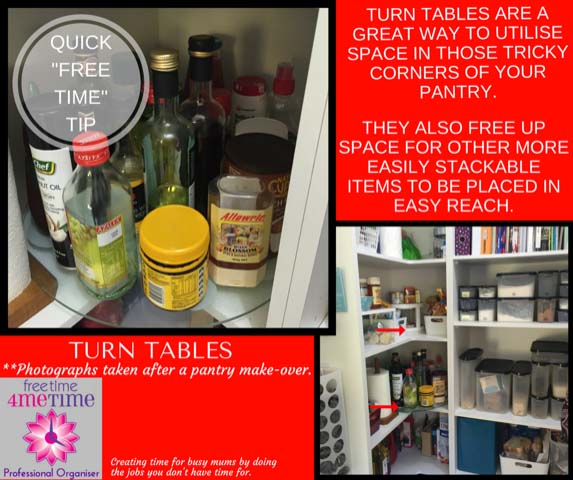 By implementing these quick ideas, your home will remain clutter free and organised, which reduces stress and keeps it looking and running beautifully.
The above are just some quick tips. If your newly painted home is looking incredibly beautiful but you have clutter everywhere, contact Free Time 4 Me Time! Deanne can help you with all the 'TO DO' list items that you're just not getting to as well as overhauling and organising your home from start to finish. How brilliant do the above before and after pictures look? It will soothe your soul seeing your cupboards looking this good!
You'd be very surprised how affordable a professional organiser can be for your newly painted home. You know you're in safe hands with Free Time 4 Me time. Deanne's even been featured on Today Tonight! With gift certificates available as well, this may just be the perfect gift for your busy loved one. If you need some help contact Deanne at Free Time 4 Me Time or follow her on Facebook. Deanne offers many services to make everything in your newly painted home look fantastic.

"Don't put off until tomorrow, what you can do today" – Benjamin Franklin
Are you in the market to have your Sydney home painted?
If you haven't had your home newly painted, that's ok – we can help you. Our award-winning team can come in and make your home look like new again! We specialise in residential, strata and commercial painting. So, if you're looking to have your Sydney home newly painted, contact us today!
SEE THE DIFFERENCE WITH SUMMIT
Call us today 02 9973 3131