Line markings can be used for so many things and they play such an important role in everyday life. Line markings can be used in many situations and are what helps keep us safe on our roads as well as in our work environment too if you are in a warehouse or factory. They guide us on so many aspects it's quite a powerful tool when you think about it.
How line markings can be used in Sydney
Line markings can be used for so many things and in so many situations:
Public car parks and community halls
Hotels, motels, restaurants
Residential apartments
Schools
Hospitals
Service stations
Shopping centres
Playgrounds
Having line painting marked out professionally can be so beneficial for the users first impressions through to their whole user experience. And also ensures proper use of the space whilst playing a major role in people's safety from:
Giving direction as to what is designated parking spaces and what is not
Which direction to drive and turn
Which designated parking spaces have also been allocated for disabled parking, pram parking and senior parking
Car park line painting is such an important aspect. Abiding by line markings is generally enforceable by law too but there are some cases where it is common courtesy such as pram parking and senior parking spaces.

Line markings for workshops and warehouses in Sydney
Line markings can also be used for workshop and warehouse situations too. When working or visiting a workshop or warehouse, you may be sharing the environment with forklifts, trucks or cars. You want the areas marked out quite clearly where pedestrians are to walk safely and go about their business as well as where vehicles should operate and stay within and what areas they need to stay out of.
In a workshop or warehouse situation, we can also use line marking to mark out different packing bays, parking bays, loading bays and anything else that will make your work zone more efficient and productive.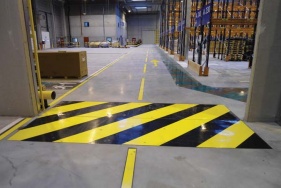 Source
Line markings for Sydney airports
Line markings are obviously very important areas when it comes to airports. Sydney airport has a huge amount of traffic both vehicular and pedestrian wise. And there are huge safety aspects that people need to be aware of when it comes to their own safety and the safety of others both inside and outside of the terminals. And this is all communicated using line markings.
To work in airports, you need to be certified due to the huge security checks and responsibilities and we of course are. We also have extensive experience in conducting large commercial projects so understand the importance of managing a project of this size and all it entails.
Contact Summit Coating for your next line marking project
Ensuring that your line markings are done correctly and efficiently is so important. You also need to ensure the company you use has the right licenses and insurances as they will be working in a public space and as they are on premises they are also a representation of you. So, you want to be confident that the company will conduct themselves in a professional and courteous manner.
We have extensive experience at working on various sized projects and in various environments/situations so would be more than happy to talk to you about your next line marking project in the Sydney area.
SEE THE DIFFERENCE WITH SUMMIT
Call us today 02 9973 3131