Have you checked out your Sydney roof lately? It's one of the biggest things we see customers overlook. Ironically, your roof is probably the most important aspect of your home. This is why high-quality roof painting is an absolute must. Today we will cover the importance of high-quality roof painting and what's involved in the process.
What is roof painting?
Roof painting or roof spraying is the painting of your existing roof. It's more economical than re-roofing your Sydney home. High-quality roof painting revives your tired looking roof and helps protect your roof and your home. Roof painting is a quick and easy process and can add up to 15 years to your roof's life. We find our customers choose roof painting over reroofing as the pros outweigh the cons:
Pros
Cost-effective
Fast turnaround
Can fix small and tricky leaks
Aesthetically appealing
Adds over a decade of life to your roof
Cons
Won't fix large leaks
Won't fix a badly damaged roof
Check out the below image which details the easy 5 step process that's involved with our high-quality roof painting service: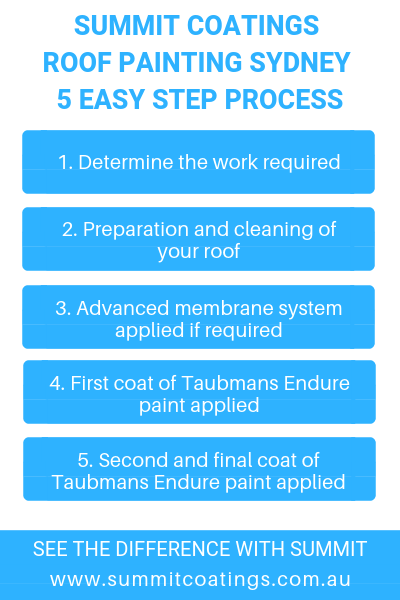 Why is roof painting so important?
Sydney roofs are often forgotten. It's an easy oversight given they're usually out of sight! But the fact of the matter is, your roof protects you, your family and your home. Roofs are subjected to some pretty harsh conditions – rain, wind, sun and even salt damage. If you don't keep an eye on your roof it could be a matter of too little too late. Once your roof starts to leak, it can cause major issues! However, like everything, prevention is the key. Sometimes it's hard to tell when you need your Sydney roof painted. It's best to call the experts to at least check to see how your roof is travelling. Roof painting will save you time and money in the long run! It will also have your roof looking brand new again.
How to ensure you get the highest quality roof painting service in Sydney
All home improvement projects can feel a bit daunting when you first decide to do them. The best thing you can do to ensure you get high-quality roof painting is RESEARCH! Research, research, research! It's important you know how to choose a licensed painter to ensure the best job possible. Here are our top tips to guarantee high-quality roof painting:
Obtain several quotes and compare
Check all insurances and licenses: this is very important especially given the painters will be on your roof and working at heights.
Check online reviews
Check a company's portfolio to see their previous work
Choose a company who are members of the Master Painters Association NSW – like us!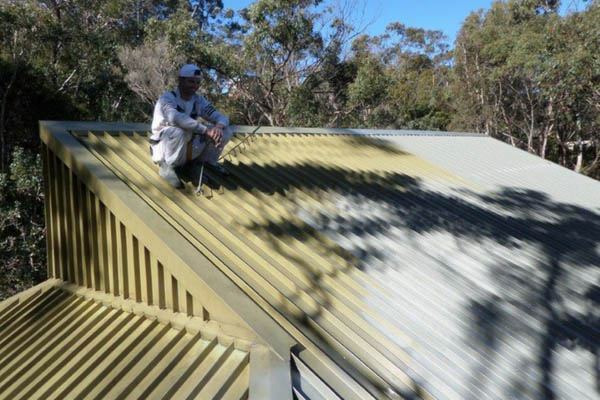 So, if you're looking to paint your roof, always go with the best. Summit Coatings are experienced in roof painting. We guarantee a high-quality roof painting service every time. There's a reason we have been the best in the business for many years – we take care of our customers. If you'd like to discuss your roof painting options, contact us today!
SEE THE DIFFERENCE WITH SUMMIT
Call us today 02 9973 3131