How to choose a licensed painter in Sydney is extremely important! House painting covers a vast area of your home – inside, outside, walls, ceilings, architraves, features, and the list goes on.
It's important that with so much paintwork, it's done right. When there's an imperfection, that's where your eye will be drawn. And how annoying and frustrating is that!
Otherwise, fixing mistakes and errors can be quite costly in the long run, depending on what the damage is.
There are 6 important factors on how to choose a licensed painter in Sydney
Experience is so important when selecting a licensed painter in Sydney
Ask them about previous work they have carried out. Ask for references and testimonials from previous and current clients, and check their online presence.
Do they have a website and social media channels?
Is the website showing actual properties they have painted, or do the images look like stock images?
Also, ask them how long they have been in business. How long they've been in business is quite important as if it's only a short time that can be cause for alarm, but everyone has to start somewhere, and that may be all it is. But be aware.
If they have only been in business for a short time, ask them about their background. Have they previously been a house painter, commercial painter, or are familiar with hi-rise buildings or strata properties? Whatever is relevant to your painting job.
They may have only just gone out on their own but have oodles of experience behind them.
However, if they are new to business, make sure they have all their insurances and licenses in place. This can sometimes be overlooked but is an essential part of a business to cover themselves but more importantly you.
Also, check if they're Sydney Master Painter. Being a Master Painters Association NSW member or a member of the relevant state body in your area says a lot.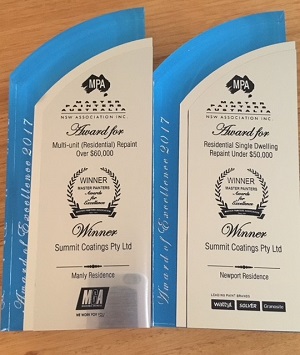 Quotes are another vital aspect when choosing a licensed painter in Sydney
We recommend getting at least 3. And engage three reputable companies too. Referrals from friends and neighbours who highly recommend their painter are a fabulous way to finding someone that does a great job.
Pay attention to how you are treated during the quotation process. If you are:
mucked around
rescheduled
they're late
don't turn up at all
Or there is no communication explaining what is happening, then that's a red flag for how their painting service is.
We are in business ourselves and understand things happen. A client may be running late, we might have been held up ourselves for an unforeseen reason, traffic could be bad, etc. But a quick phone call to let your potential client know what is happening goes a long way! Time is precious, and everyone would love more of it.
Insurance and license considerations when deciding how to choose a licensed painter in Sydney
It is critical that the painters you use have the correct insurances and licenses in place. It doesn't matter if it's strata painting you need, a heritage painter in Sydney or a residential painter in Northern Beaches. Or even if it's a hi-rise painter for your North Shore property.
All painting contractors, businesses, and companies should have the relevant licenses and insurances to protect themselves, you, your home, and the public.
Don't be afraid to ask the question – do they have insurance and licenses? General liability, workers compensation, and Home Warranty Insurance if the work to be carried out is over $20,000.
Ask to see their Certificate of Currency for their insurances. Don't just take their word for it.
The Master Painters Association of NSW or your state is full of great information regarding painting contractors. Do check to see what the requirements are in your state as they do vary from state to state
Preparation and tools can say a lot about when your painting contractor is professional and licensed
First impressions are everything, and after the quoting processing seeing how they prepare the area to be painted and what tools your painters have can say a lot about them.
If their tools are:
 worn
look to be on their last legs
look like they've fallen off the back of a truck
Well, that's a giant warning bell for you.
When it comes to the preparation, you don't want your home or commercial painter to hold back in this area. It's the foundation for your finish, so you want the area prepped adequately to get a professional finish.
Testimonials and references relevant to the work you are having carried out
Whether you are having:
Residential painting completed
Strata painting
Heritage painting
Hi-rise painting
You want to see testimonials and references or speak to those who have similar work completed to what you want to have done.
Make sure you do your due diligence and check any testimonials and references provided by your professional painters.
Guarantee – do your licensed painters provide one?
Always check what sort of guarantee your Sydney licensed painters provide. Or do they provide one at all?
If they don't provide one, then that is again a warning bell.
There should be a guarantee on the actual paint and materials used and the preparation and application of the paint itself.
Summit Coatings are professional and licensed painters in Sydney
Are you looking for reputable, experienced, and licensed Sydney painters? Well, look no further. With a proven track record with over 30 years of experience and many awards from the Master Painters Association NSW. You can rest assured you will receive only the best service.
We would love to talk to you about your next painting project whether it be your residential home, commercial property, hi-rise, or strata property. No job is too big or too small for Summit Coatings.
SEE THE DIFFERENCE WITH SUMMIT
Call us today 02 9973 3131