Strata painting services are very different from your standard residential painting project. There are a lot more aspects and parties involved in the process. This is why it's essential to ensure you engage high quality strata painters in Sydney.
If you're a strata property owner or thinking of buying a strata building, read on!
Why is it so important to choose a high quality professional strata painter?
As mentioned above, strata property painting is complex and involves more people than a standard residential project, which means there are more significant risks involved. The fact of the matter is you've made a substantial investment in purchasing a Sydney strata property.
Perhaps you're living in it or have one as an investment to rent out. Either way, you don't want to devalue your investment with a lousy paint job. What you do want to do is create a beautiful modern makeover for your Sydney strata property and with our years of experience, high quality paints, attention to detail, project management experience. We can help you do this.
A high quality strata painter will add value to your Sydney property. They will ensure your project runs smoothly and ticks all the boxes. Believe us. There are quite a few boxes to tick when it comes to strata painting! Sydney strata painters will have to deal with things such as:
Communicating with strata managers, body corporate, tenants and property owners
Communicating with councils and the public if required
Ensuring all relevant licenses and insurances are held so we can work with high rise buildings if required on this project
Navigating stairwells and other difficult angles and access points
From the few points above, you can start to understand why it's so important to engage with professional and experienced strata painters.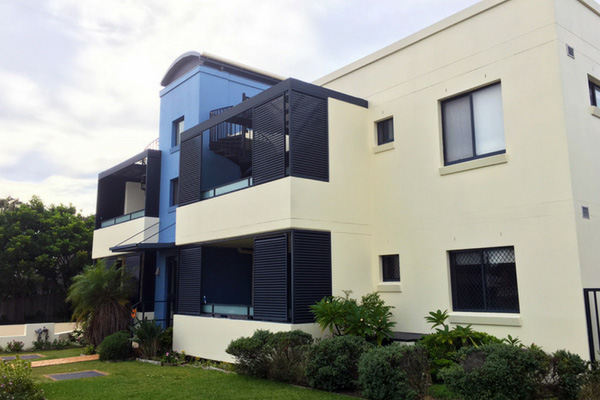 Should I use the cheapest Sydney strata painter in Sydney?
No!
We all love to save money, but it's not always the best option. Choosing the best painter in Sydney is the way to go! With projects as complex as strata painting, the cheapest job will usually end up costing more in the long run.
Whether they have the correct insurances and licenses comes to mind straight away. If the worst might happen and an accident happens, it will cost you a lot more in the long wrong.
Also, using cheap strata painters who do a terrible job and use the wrong products will only come back to bite you. You'll end up having to fix their paintwork, which will mean more time, more money and lots of frustration! There's no point saving money in the short term on your strata project only to end up spending more in the long term.
Choose high quality strata painters
Like Summit Coatings as we will use the:
right paint
right tools
and do a superb job that will last for years to come
It's much better to have the job done right the first time and to the highest of standards like the before and after shot below. We firmly believe that using a high quality strata painter is a good investment for your significant investment!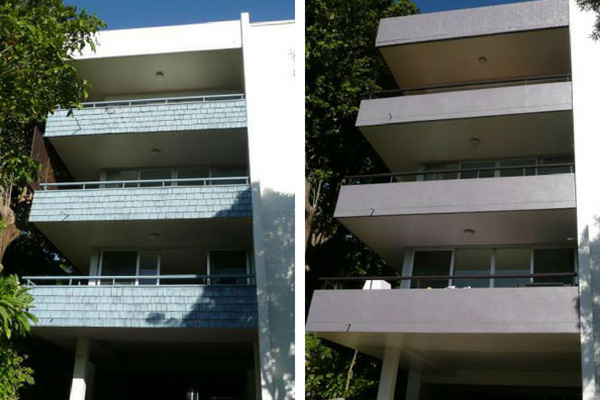 What's next?
If you've been thinking about updating your strata property, we can help!
We have decades of experience with strata painting projects –take a look at our gallery to see some of our work and the high quality we deliver. We use top quality paints from Taubmans Endure ensuring your strata property stays looking as good as new for a long time.
Our professional team understand the ins and outs of what's involved with strata property painting and can help you from start to finish, including colour consulting if you wish.
Contact us today to discuss your strata painting needs!
SEE THE DIFFERENCE WITH SUMMIT
Call us today 02 9973 3131