First impressions count. At no time is this more true than in business. It's why you've spent time and resources ensuring your brand logo is right, your website is easy to navigate and your advertising gets results.
Whilst you're definitely on the right track to making your business stand out, don't stop there. It's just as important to get your office space right, choosing the right office paint colours to inspire both clients and employees alike!
You might think that all offices are pretty much the same; white walls, black computer screens, laminate desks and paper. Everywhere. Just so much paper.
But it's time to wake up and smell the paint colour.
Just like you style your home to be a reflection of those who live there, your office is where you and your employees spend most of your days working towards shared goals. It's also a reflection of a company's culture – and don't you want your clients to see you as professional, confident and organised? As we offer commercial painting services in Sydney, we are qualified to offer a few ideas for how to improve your space and choose the right paint colours for your office to complement your brand and space.
The entrance
It's the first thing you see in the morning and the last area you see at night, it's also the first area your clients see. Firstly, it's important to ensure your office is easy to find and that your signage is professional and brand aligned. The next step is to ensure that when your clients enter your office, there's no mistaking where they are! Adding a branded door mat is one easy solution to continue your branding inside; so is leveraging your brand colour into corporate office paint colour ideas. If your brand colours are too strong and not ideal for the psychology of the office space – consider a feature rug in your brands' colours, some accent cushions on the waiting sofa, or perhaps let our painting service coat a piece of furniture in the exact shade of your company branding etc.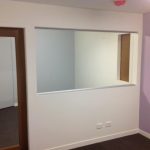 Image Source: Soulful Creative 
Meeting/breakout areas
To really impress your clients, pay attention to the meeting room. It's generally the place where clients will spend most of their time (and we know how long meetings can sometimes roll out). If you are looking to step into colour in the workplace, try coloured furniture accents, floor coverings and window furnishings. It's an easy solution to break away from the standard white boardroom walls by licking a coat of paint over them for impact. Consider using aspects of your branding or logo here in lieu of something too strong that won't complement concentration. Hue's and saturation should be considered.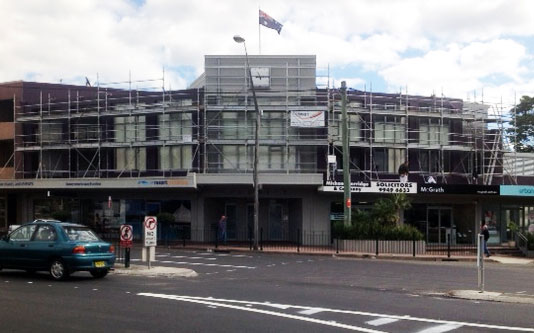 Image Source : Charlotte Minty Blog
The bathrooms
Everyone needs to use the bathrooms at work, employees and clients alike, so don't forget about this space. Whilst the priority here is hygiene and cleanliness and ease of maintenance, it doesn't hurt to add some extra touches. Incorporate your office paint colours into this environment with accessories like soap dispensers and a scented diffuser. Studies show there are a number of different smells which can improve moods. And don't just buy the cheap soap, but something more hydrating. Consider adding a "freshen up" bar, including items such as hand creams and breath fresheners. Also, try a piece of art on the walls to add some character.
Music
Whilst some workplaces have a good reason for not playing music, most don't. It's a fact that music increases work productivity, helps employees stay focused and generally improves office morale (just like choosing the right paint colours for your office). Music also assists in making visiting clients or suppliers feel more at ease. At Summits own office, we've seen the difference music can make to our workplace. Just think what you would prefer: sit in a waiting room with a background track of calming jazz sounds, or dead silence? Even soothing nature music can work in the right space. Just avoid anything too aggressive or repetitive. Also avoid the radio unless it's a noisy environment, the ads and talkback time can be really difficult to think to.
For assistance in creating a dynamic and on-brand office through colour, contact Summit Coatings today and let us assist you with our commercial painting services. You might be interested in painting your office with the most on trend palette.