When was the last time you painted the outside of your house?
There isn't one single answer to how often you should paint your home. In fact, experts can say anywhere between 4-15 years, which is pretty varied! The main idea is to paint your home whenever it starts to look a little worse for wear.
If it's time to paint your house's exterior, you have the exciting job of picking out a new colour. But the colour selection isn't always that easy. You have to find one that you love, suits your home, and is practical.
To help you find your perfect choice, check out our guide to exterior house colours.
1. Light Blue
Light blue is a definite contender when it comes to the best house colour. A light, powdery blue is ideal for adding a bright colour splash that's not too overwhelming. It's fresh and welcoming whilst also looking very modern.
Whatever you choose, you can be sure a lick of blue exterior paint will brighten up your home! If you're by the sea, paired with a crisp white access colour, particularly a white door is excellent for an ocean feel. Or for country homes, opt for light wood to keep a rustic vibe.
2. Buttery Wheat
Wheat is the ideal choice if you want to move away from white but not stray too far. Buttery and warm, wheat is somewhere between white and yellow. It's a clean shade that's welcoming and homely, making for a happier looking house.
Stick to light coloured fixtures with this colour. White works exceptionally well, while a light grey roof is more mature.
3. Sage Green
Opt for a more muted, neutral tone with sage green. You won't have to wash your walls often with this choice! Sage Green is a slightly darker option than other paint colours, making it ideal if you want a low-maintenance alternative.
Whilst darker, sage green is far from dull and dim. It's a natural tone and perfect for exterior colour schemes where you want a calming and contemporary palette. Opt for a Sage Green tone that has lighter undertones for a brighter look or one that's a little more grey for a modern choice.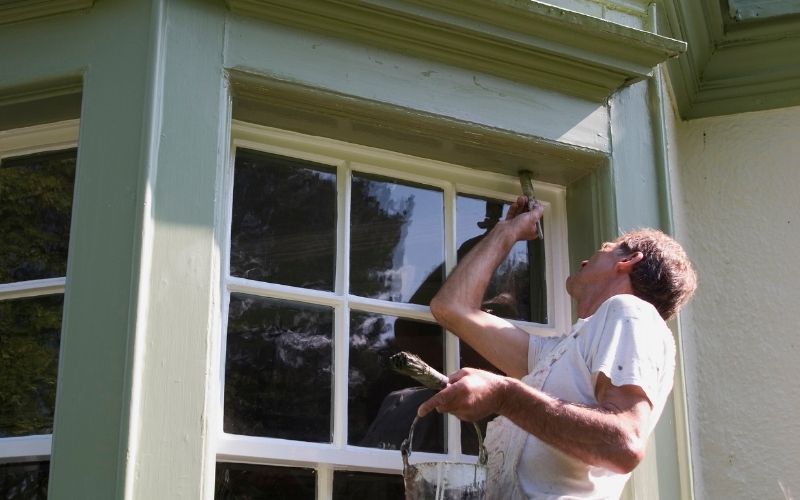 4. Light Grey
Light grey is great for adding a bit of life to your exterior walls without going too crazy when it comes to house colours. It's not too out of the ordinary, but it's different enough to be noticeable. Light grey is also very fashionable at the moment, making it ideal for a stylish house.
In terms of fixtures, you have a wide range of choices. A darker grey can be very complimentary, whilst a splash of colour as an accent colour on your front door will bring your home to life. Play around with ideas to see what works for your home.
5. Soft Lavender
Add some colour to your home with soft lavender. Choose a powdery, light option for a beautiful exterior. A soft Lavender colour scheme is definitely more of a unique choice, and it's ideal for summery, ocean-side spots.
Lavender homes work incredibly well if you have a front garden. Fill it with bright green grass and a few purple and white plants for a welcoming entrance.
6. Warm Taupe
For a neutral tone that'll leave your home looking fresh, modern, and looked after, opt for warm Taupe. It's a colour that doesn't make too much of a bold statement and will blend nicely with your street. If you're looking for a hassle-free option, this could be the best colour for your house.
Warm Taupe is a classic, so you won't have to worry about it going out of fashion. It's a safe colour that's been popular for years.
7. Navy Blue
For an undeniably stylish choice, why not go for navy blue? It's a low-maintenance option because of its dark hue, meaning that it'll last for years with little work. It also adds a little bit of colour without being over the top.
Brighten up navy blue with white window fixtures and a light wooden door for a homely feel. This colour pairs best with a darker roof, such as grey slates. If you want to add a splash of colour, switch the wooden door for a bright lighthouse red.
Navy Blue tones are also an excellent roofing colour if you want to freshen up your roof tiles.
8. Cloud White
White is a clean, bright colour that you can't go wrong with. It's perfect for instantly renovating the exterior of your home, making it look fresh and well-kept. It has a timeless appeal that no one can resist.
If you want a slightly warmer look, opt for one with creamy yellow undertones, like cloud white. Or go for a stark, clean white to make a statement. For the rest of your exteriors, white is a bare canvas, so you can do what you want!
9. Slate Grey
If you favour the darker colours to paint your house, slate grey is a stylish choice. With blue undertones, it's not too dark for a house and can be brightened up a little with white fixtures. It's also an easy way to quickly make your home look more contemporary, adding plenty of style to your house.
Refresh Your Home With Exterior House Colours
When it comes to the best colour for the exterior of your house, there isn't a one size fits all answer. Instead, play around with different exterior house colours, swatching on your walls or using apps to see what will work best. That's what sample pots are for, after all. Or why not team up with a colour consultant if you get stuck on your interior and exterior paint schemes.
Once you've picked your colour, make sure you get a professional finish. Our team at Summit are experts at painting homes, making sure you get the look you want and ensuring it'll last for years to come.