Is time again to have your commercial building or premises painted? You only want the best when the project is so big which is why we have collated our best tips on how to choose the best commercial painter in Sydney.
How to choose the best commercial painter in Sydney with our top 8 tips
1.    Do your homework and research commercial painters in Sydney
Check out their online presence and testimonials. Have they done similar work before particularly have they done similar sized projects to yours?
Also, a great way to find a reliable commercial painter is to ask colleagues in your network. whether they can recommend anyone. It's important when choosing a commercial painter that you find one that offers a good quality product and service for the price you pay for it.
2.    Consider when is the best time for you to have the work done
Quieter times are obviously better than during your peak period. As professional and experienced commercial painters we try and keep the disruption to a minimum but there's, unfortunately, time and instances where it can't be avoided. The best commercial painter will work with you to complete the job when it suits you though.
3.    Source multiple quotes and ask questions
Timeframe
Deadlines
Insurances
Licenses
hours they work
type of paint used, etc
The above are all very important questions to ask. When you are sourcing quotes in Sydney ask the commercial painters for referrals too. That way you can speak directly to their clients discuss the work undertaken – communication prior to, during, and after, quality of work, how the painters and the company conducted themselves, etc.
4.    Ensure the quotes detail all aspects of the work to be undertaken
And if you're not sure ask! You want to make sure when you receive a quote it always details everything. That way there is no miscommunication along the way. If you have any questions regarding your quote, then make a list and ask!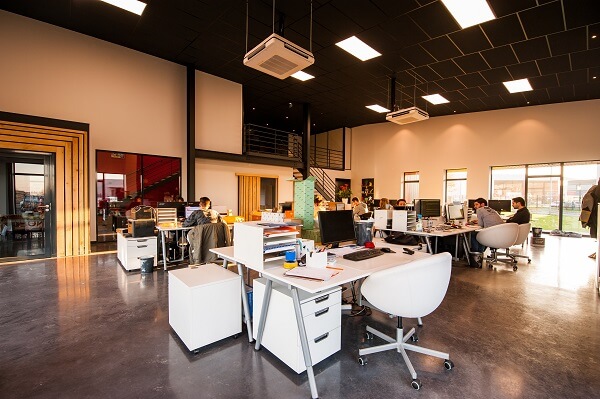 5.    Remember cheaper is not always better
Consider all the quotes you organise but also consider how the painting company represents themselves and conducts themselves. First impressions can tell you a lot! Read our previous article about the true cost of a bad commercial painter to get the full picture.
It's obviously important to weigh up the pricing of the quote too as we're all on a budget. But how does the quote compare to the service and quality they have shown. Remember that your building's paintwork is the first thing clients see when they visit your premises. So, also rate the quote on the service and product knowledge you received from the painting company too.
6.    If they turn up late, are messy, abrupt, and rude, then run a mile!
Sometimes things happen, and tradies can run late but it's how they deal with it that makes all the difference. Consider the following:
Putting the quote aside, would you be happy to do business with them?
Would you employ them to work in your business? Remember they need to sell their business and services to you to win yours.
7.    Experience!
Make sure you are getting an experienced commercial painter for your Sydney premises. They should also have a team behind them that can support them to the type of job you have on offer.
Always ask questions and find out about the experience the painters doing the work have. The face of their business should offer the same level of service that you receive all the way through to the painting contractors. A good team supporting each other is vital! So, ensure you receive that with your painting contractors too.
8.    Go with your gut
Sometimes your gut instinct can be the best. So, listen to your own instincts too. You know what type of commercial painter you want working in your business so, make that decision on what feels right for you!
What's next?
Now to find the best commercial painter in Sydney which you have done already right here. So, follow the eight tips above and call Summit Coating on 02 9973 3131 to organise a quote for your business.
SEE THE DIFFERENCE WITH SUMMIT
Call us today 02 9973 3131