6 Reasons Why
The frequency at which an Australian should repaint their house is hotly debated, but you'll play it safe if you do so every 5 to 6 years. While many people think that this is a fun DIY opportunity, this isn't the case at all!
Hiring professional house painters is the best way to optimise the look of the interior and exterior of your home. Read on to learn the biggest reasons why a quality painting company can significantly help you during your latest renovations!
1. Professional painting works are affordable
If you're like most people, your main holdup when it comes to hiring professional house painters is that it can be costly. We're here to assure you that a professional painting service is less expensive than attempting to do it yourself.
For one thing, any painter that you hire will be more than happy to come up with a financing plan that works for everyone involved, meaning that you have nothing to fear.
You also need to think about the money you'd be spending if you decided to DIY your paint job. You'd not only need to purchase paint but all of the supplies that allowed you to coat your house, from ladders to brushes to rollers, which can get expensive quickly.
And what about when you make mistakes? Then you'll need to pay even more for supplies if you had to repaint or patch! DIY is generally a lot more costly than hiring painters is when you work it out properly.
2. Experienced painters Save you time
Painting your house is no easy project. It can take an entire month (or more) to complete your painting project as an amateur painter. You'll also be performing difficult labour for most of your day, every day, which is sure to tire you out and take up all the time that you could be doing other household tasks.
Luckily, our award-winning residential painters in Sydney are more than happy to come out and paint for you. Not only will you be able to relax and perform other tasks while they're working on your home. But they also have the tools and resources to work much faster than you would be able to.
This means that your house won't look like a half-baked work-in-progress for a long time and that you'll be able to show off how glorious it looks within a week!
3. Professional painters are highly qualified
In Australia, there are standards that professional painters must adhere to when they become certified. They must have taken many courses to paint the exteriors of buildings and must follow a guide that outlines industry standards.
One of the most critical points on these standards is that if there's a bare surface made of timber or plaster, three coats need to be applied to it. Furthermore, if spray paint is applied to the plaster surface, the last coat must additionally be given a roller finish.
All our experts have gone through training and adhere to these industry standards. For this reason, you can expect that the painters you hire will have the knowledge necessary to make your home stand out and provide a great job with high attention to detail.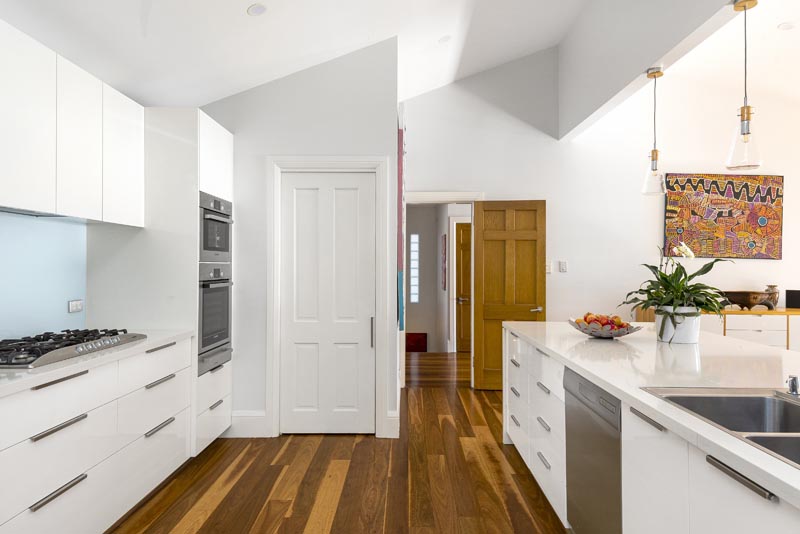 4. Professionals Are Experienced
Education is power, but education alone will not make your home look fantastic even if you read and attempt to adhere to the industry standards on your own. You simply won't have the experience to make your home look as though it was painted professionally.
For example, you're unlikely to get your coats even if you perform your own paint job. You're also likely to move your paint roller or brush in different directions, which will lead to a patchy look. This issue will be made even worse because you don't have the same brushes, rollers, and other tools as painters-for-hire do.
However, professional painters are experienced enough that they won't have this issue. They'll know exactly:
what rollers and brushes to use
when to use the right tools
how to use them to make coats as even as possible
5. They're Also Colour Consultants
Deciding what colour schemes are best for your home's exterior or interior is a challenge that many people struggle with.
You need to pick something that invokes feelings of calm and welcoming, which generally lends itself to shades of blue. However, an off-white is by far the safest colour when painting your home. This makes eggshell shades the favoured choice for many homeowners, but it also puts many people off because they want to be unique.
Our professional Sydney painters are colour consultants and perform the practical functions you need to provide a fantastic job. They're excited to help you decide what colour will be best for your home, taking into consideration the colours of your interior as well as the hues of other houses on the block.
6. Your Siding and Roofing Will Match
Since our painting professionals also focus on roof painting and restoration, you can get both of these renovations done simultaneously. Hiring someone to paint your roof will ensure that you stay safe since going up onto the roof without all the safety items you need can be dangerous.
This also ensures that your siding and roofing will match. Even if you think that you can make them match during DIY attempts, a trained eye will know whether the colours, textures, and styles look good together.
Hire Professional House Painters Today
While some people choose to DIY their home renovations, this is a terrible idea for painting. DIY means more mistakes, more time invested, and more overall frustration while remodeling.
Now that you know why bringing in the pros is a necessary step in the home renovation process, it's time to get the best services on the market that also come highly recommended.
Click here to contact us and ask any questions you may have about getting your house painted by our skilled professional house painters. We'll also be happy to discuss financing with you so that you can get your home looking perfect at an affordable and competitive price.
Good luck!