There's nothing better than giving your home a facelift with a new coat of paint. Whether it be the interior or exterior. But if you're an avid DIYer and want to tackle the job yourself many things can go wrong, unfortunately. Today we are covering the mistakes to avoid when painting your North Shore home.
Our 5 top mistakes to avoid when painting your North Shore home
1.    Preparation when painting your interior is of the utmost importance
Remember preparation is key. Firstly remove what you can from the room for ease of access and manoeuvring. I know it can be a pain trying to find somewhere to put it all, but it really is so much easier in the long run.
Then give your walls and ceilings a good going over too. Look for any areas that need patching – dings and dents. If these aren't all fixed now you will kick yourself after you've painted. So be thorough!
Put down plastic and drop cloths on the floor and over furniture that can't be removed. And don't forget to wash the walls before starting. Especially if you're in the kitchen or bathroom. Grease, grime and dust have an unfortunate habit of sticking to the walls in these areas from the steam.
2.    Buy the right painting tools and don't skimp
This is definitely one area you don't want to try and save money. There's nothing worse than the fluff off a roller being left on your walls or ceiling or the bristles from your brush sticking as you paint. Not a good look at all!
3.    Painters tape
If you don't have a steady hand, then make sure you stock up on painter's tape, so you have clean edges. There's nothing worse than sitting back enjoying your handy work and looking at your shaky wonky edges. Ensure you press down properly so it has a good seal
It's fiddly and can be a nightmare to apply but definitely worth it in the long wrong when you have neat edges at the end of the day. Avoid masking tape though. Painters tape was developed for a reason. It gives you a clean, neat edge. Whereas masking tape will let paint seep under the edge and you have a very disappointing blurry and messy edge when you pull it off. No one wants that!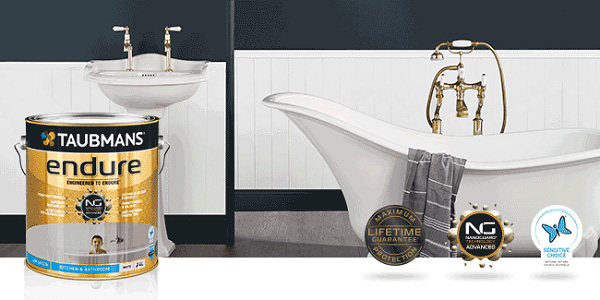 Source: Taubmans
4.    Don't use the wrong paint
Make sure and double check that you have purchased the right type of paint. There's a reason why kitchen and bathroom paint is different to paint that can be used in hallways, bedrooms, etc. bathrooms and kitchens are exposed to humidity, heat, grease, mould, mildew. So Taubmans Endure Kitchen and Bathroom has a Nanoguard Advanced Technology so stains and grease can be wiped away easily without causing damage to your finished wall or ceiling.
Then when it comes to the rest of your rooms. Taubmans have a wonderful Endure range which has a lifetime guarantee too.
Also, make sure you are using the right sheen for what you want – low, semi and matt.
When it comes to your interior doors and trim you can use the Endure range's semi-gloss or gloss too.
5.    Exterior painting
If you're painting the exterior of your North Shore home and the weather isn't favourable don't proceed! You will live to regret it most likely. Never paint over damp or wet surfaces and don't paint if there's a chance of rain or it's too cold.
Cut back any bushes or trees that are in your way or touching the areas you are going to paint. Also, if you are painting timber or weatherboard check to ensure the area has no rot, etc too. as that definitely will need attending to first.
Is DIY not for you? Then call the professionals
If after reading all the mistakes to avoid when painting your North Shore home DIY is not for you. Then call the professionals, Summit Coatings. We service the North Shore and Northern Beaches of Sydney as well as the wider area. So, would be more than happy to discuss your projects needs. With over 30 years experience and many Master Painters Awards under our paint brush, you will not be disappointed!
SEE THE DIFFERENCE WITH SUMMIT
Call us today 02 9973 3131