When choosing the right paint colour for your heritage style home, it's difficult to know which palette will ensure your home looks its best. Home owners can fall into the trap of choosing colours that don't accentuate the home's character but actually date it considerably (even if it's a brand new paint job).
Sydney's North Shore showcases some of Sydney's most beautiful, heritage style homes. As North Shore painters, Summit Coatings has been lucky enough to work on a number of these residences, and bring them to life through careful colour selection and finishes.
We've listed some tips to assist you to choose a colour scheme for your heritage style home.
1. Identify the architectural style and era
At first glance, every heritage style home on your street might look the same. But on closer inspection, there are vast differences been a Queen Anne Victorian, a Californian Bungalow or a traditional Queenslander. Many paint manufacturers can actually offer "heritage" collection paints, which recommend a scheme based on your style of home, which can make choosing the right paint colour easier. Sticking with these schemes will ensure your home can rise to its potential, instead of looking disjointed and pretending to be something it's not.
2. Consider your curb appeal
Choosing the right paint colour isn't always easy, with plenty of "umming" and "arring" . Consider how you want your home to look from the street. Do you want it to sit prominently, as a grand residence visible from the road, or perhaps you prefer a quiet achiever, which blends into its surroundings? For something bold, consider darker shades to really draw the eye. However, if you're after something a little softer, pale hues will work best here.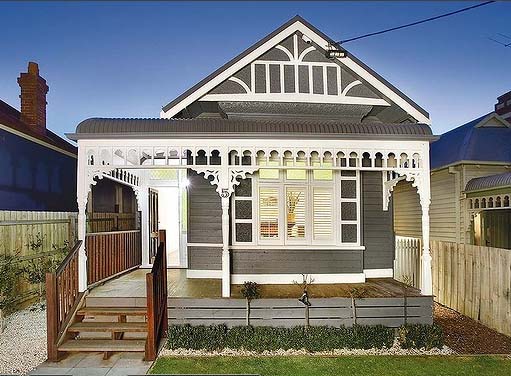 3. Don't just stick to the building
Heritage homes usually come with charming fences, driveways, eaves and balconies. Instead of having these the same colour as everything else, consider making them a feature. Try using feature colours that still work with your colour palette, yet are a few shades lighter, or darker than what's on the walls. This is where it really pays to have a professional consultant guide you in your choices. Colour consultants can assist in determining which features should shine, and which should be subtly hidden away.
4. Take a look at the rest of the street
Some people love having their house as the only home in bright pink, on a street of neutrals. And depending on your style, you may be able to get away with this. However, if your priority is to present a beautiful property that looks at home in its surroundings, consider what your neighbours are doing. We see many charming streets with one heritage house after the next. Take a look at what others have done and take note of what works and what doesn't. We don't recommend painting your entire home the same shade of grey as each of your neighbours, what we do recommend is using visual cues from fellow home owners to ensure it looks its best.

If you would like more information about how to enhance the look of your heritage home, call Summit Coatings on 02 9973 3131, contact us through our website. We offer colour consultancy as part of our services to make your project easier and developed the below colour trends guide to you started choosing the right paint colour for your home today.