The feeling of light in a space affects not just the look of a room but also the feel. Most of us spend the majority of our day inside at our place of work, and the availability of natural light is often scarce which is why we're going to share our commercial painting tips to just do that.
It's a challenge when designing dark commercial spaces, with most people preferring to work with an abundance of natural light. Commercial spaces often have limited windows, large floors filled with wall dividers, average lighting, and poor design all around. It's been popular to house your office in a converted space of another kind (we're thinking warehouse), but these spaces were never considered as places needing natural light.
So as commercial painters and decorators in Sydney, we asked ourselves what can be done to make dark commercial spaces feel brighter? We've all heard of the studies that show the psychological effects of a lack of light (including depression, being prone to distraction, etc.), so what are some easy factors to consider to add extra light to your dark commercial space?
Here are our top 3 commercial painting tips
Choosing the right paint colour
Choosing a paint colour that enhances natural light is the best and quickest way to brighten up those dark spaces. There's nothing better than fresh paint to lift a room.
As Sydney commercial painters, we've seen firsthand what an amazing difference using an off-white paint colour can achieve instead of darker, bolder colours. Whiter, lighter shades are fantastic for use in a commercial space, as they are neutral, don't date (longevity), and can make space feel bigger and airier.
If you're intent on using colour in your commercial space, either try to limit to a feature wall or use pale shades of colour to achieve that bright feel still.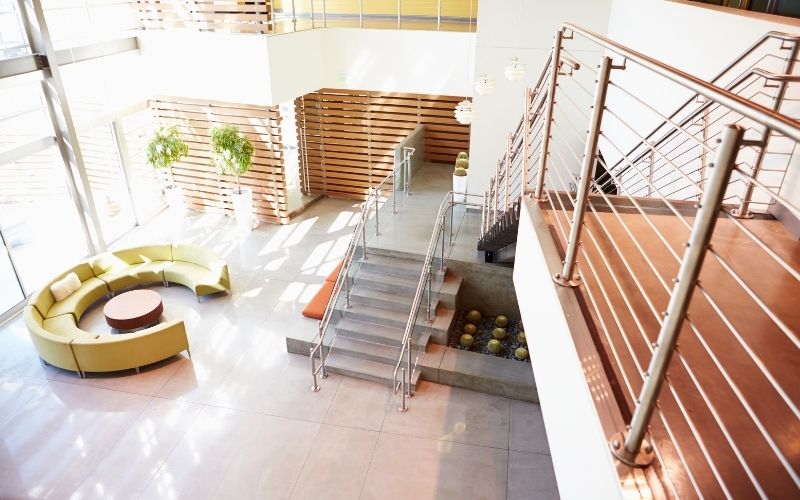 Choosing the right paint type
This is an important one in our commercial painting tips. Whilst choosing a lighter colour is an obvious choice, selecting the right paint type is often something only painting professionals and commercial painting contractors will consider. Colour isn't the only variant in paint; there's also the base to consider (oil or water), and more importantly, the sheen. How much sheen is in the paint will affect how glossy the finished surfaces appear.
Low sheen paint is great for covering imperfect walls (as it tends to hide those lumps and bumps) or for deep coloured walls of which the effect is rich, textured tones. However, a low sheen isn't great for durability or light reflection.
We recommend really amping up the sheen in your paint to increase the light in the space. It doesn't need to be super glossy, just enough to allow your walls to reflect that little bit more light.
Consider using a semi-gloss if you're not committed to staring at shiny walls for the next 5-10 years. The benefit of a higher-sheen coat of paint is that your walls will also survive more wear and tear with the ability to be wiped clean instead of its low-sheen counterpart, which can need some maintenance love from your favourite professional painters in Sydney.
Clever Decor for Your Commercial Space
Using a commercial painter to update your Sydney office isn't the only solution to making your commercial space seem lighter and brighter. Some strategic decor choices can also make a considerable difference. We've seen how the right materials in the right place can really change the feel of a space. Our favourite tip is placing mirrors (the bigger, the better) in opposition to windows to reflect even more light. It will also make the room feel larger if space is something you're fighting against.
As commercial decorators, we suggest using white and bright desks, cubicle panels, and office furniture, which also help achieve a feeling of brightness in your space. Just make sure to break up the "whiteness" with some pops of colour here and there. Think coloured desk accessories, accent chairs in the waiting room, or floor coverings.
If you're struggling to catch the light in your commercial space, contact Summit Coatings for a free quote – we also offer colour consultancy to help make your colour choice that little bit easier!